7 Best Practices to Prepare for the SSAT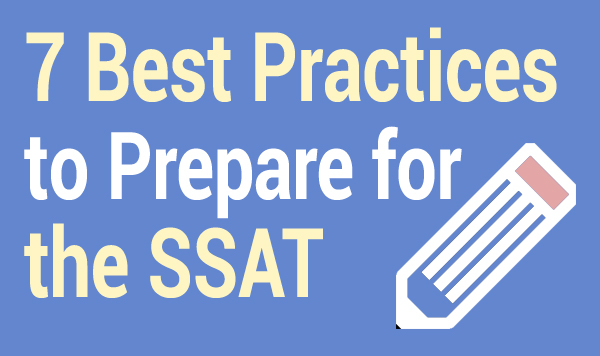 The Secondary School Admission Test (SSAT) is a standardized test used by private schools to help them determine who to accept during the admission process. Private schools are highly selective and are only able to accept a certain number of students. Due to the variation of standards between public schools, basing admission on the applicant's public school GPA is inherently flawed. This led to the development of the SSAT to gauge an applicant's understanding of core concepts and abilities. Using this information, along with other factors such as extra-curricular activities and community involvement, private schools determine whom to accept as students. By following the seven best practices to prepare for the SSAT below you can ensure you put your best foot forward when applying to a private school.

The 7 Best Practices
Success on the SSAT can be ensured by following the below best practices. Robert Kennedy, a former private school admissions board member, suggests that proper preparation is essential for success.
Take Practice Tests – A key factor in any form of examination is confidence. Constantly second-guessing yourself and being unsure of your answers can slow you down and result in a lower score. SSAT practice tests allow you to build confidence and familiarity with the SSAT. Kennedy advises purchasing and regularly taking SSAT practice tests a full year before you will be taking the real test.

Pace Your Self Study – Kennedy also suggests beginning your study well in advance, anywhere from six months to a year before you are planning on taking the SSAT. By starting your study this far ahead of the testing time, you will be able to study at a relaxed pace. Set aside 15-30 minutes a day to study for the SSAT. This small amount of time will aggregate and amount to a wealth of knowledge and confidence for the SSAT.

Strengthen Your Deficiencies   – You will be able to determine your educational deficiencies by taking several practice tests. You may find you have more difficulty in mathematics than reading comprehension. Once you determine your deficiencies, pay special attention to them when you are studying. Allocate more time to study your weak areas than your strengths. However, be careful not to neglect your strengths lest they become weaknesses.

Seek Help – You are not alone in your studies. Seek help from your current teachers, parents and tutors to help prepare you for the SSAT. VarsityTutors.com even offers tutors specifically trained to help students prepare for the SSAT. Having an SSAT tutor can give you an advocate in preparation.

Memorize the Format and Structure – This will naturally occur as you take practice SSAT tests, however it is worth paying special attention. Thoroughly memorizing the format and structure of the test can help increase your level of comfort when testing. According to SSAT.org, the test begins with 25 minutes for a writing sample, followed by 30 minutes for verbal and quantitative mathematics and is ended with a 40 minute section for reading comprehension.

Arrive On Time – Simply being aware of the testing time and location can ease many fears about the testing process. Find out exactly when to leave your house to arrive at the facility 10-20 minutes ahead of time. This allows time to visit the restroom, eat a quick snack and calm your mind for the test.

Keep Calm – The Tennessee Department of Education suggests that test anxiety can render months of preparation useless. It suggests that a certain amount of anxiety is normal, and even useful, however too much anxiety can inhibit the brain's ability to access and process information. The Tennessee Department of Education suggests students remember tests are only one way their application is reviewed by admission specialists. If you begin to become anxious, breathe deeply, remind yourself this is simply a chance to show what you are capable of and focus on the test.
Prepare, Practice, Succeed
The SSAT is not to be entered into lightly. Enrolling for testing and showing up is a crucial step in ensuring your success, but it will not guarantee it. By avoiding last minute cramming and practicing the above preparation techniques, you can be successful when taking the SSAT.
About:
David Atkinson is a guest writer and private educator. He provides consultation services to parents who wish to enroll their children in private schools.