The Student Loan Debt Bubble – Infographic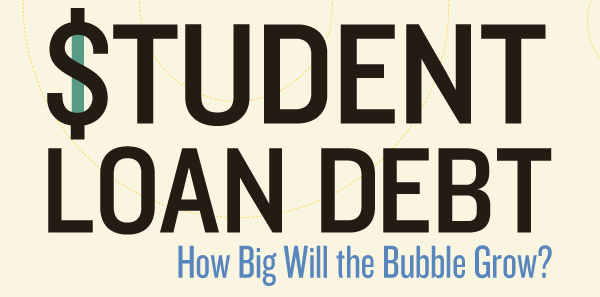 The federal government started guaranteeing student loans in 1965. The program, which is still around today, was called the Federal Family Education Loan or the FFEL program. But the first federal student loans were given in 1958 under the National Defense Education Act of 1958. These college loans were made with U.S. Treasury funds. Over time a lot of changes have been made in how the government deals with these education loans.
Men and women graduating high school have been able to go to college because of these college loans. Yet as tuition has increased the amount able to borrow has not increased. This has caused people to drop out of college. After dropping out of college they take jobs that just barely get them by thus they end up defaulting on their student loans. With today's economy people are losing their jobs and those who were paying on their student loans cannot make the payments and they too end up defaulting on their loans. So in the end the government is making federal student loans and not receiving any money back. If you find that you are behind on your student loans be sure to check out student loan rehabilitation.
Each year the government ends up adding more to their student loan debt. Defaulted student loans keep adding to the deficit. Right now it is estimated that the student load debt is over $1 trillion. It is also estimated that it will increase by half a trillion a year. By the year 2020 the student loan debt is expected to be more than $3.5 trillion. That is more the total debt of Spain and more money than the United States has in circulation.
What can we do about the student load debt? Consider a less expensive college whose degree means just as much as an expensive college or consider a community college for your general ed courses. Also, search for "free college money" such as grants or scholarships. The more free money you can find the less in debt you will be when you graduate.
Student Loan Debt Infographic:



Infographic image via: Credit Sesame