The 4 Hottest Medical Careers Between Now and 2020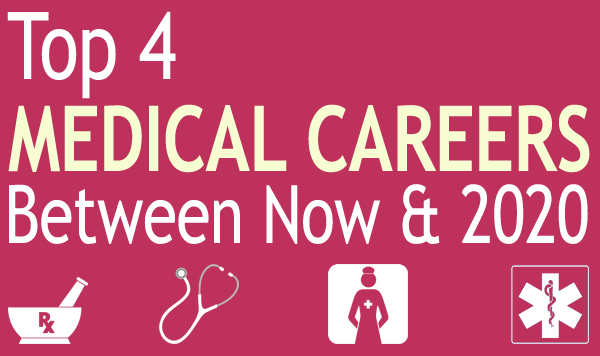 In this economy, having the right skills can mean the difference between gainful employment and standing in line at the local soup kitchen. Nobody gets anywhere without some kind of specialty knowledge, and it's vitally important that you're skilled at something that can't be outsourced to India.
People also need healthcare. This is simply a fact of life; no one alive today will make it to the end of their lives without visiting a hospital at least once, and they need someone local to care for them. The medical field offers careers that are as stable as any job could possibly be, and if you're looking to secure your future while doing something that matters, this is one of the best options available.

What You Can Do With an Associate Degree

Pharmacy Technician – There are a wealth of choices beyond becoming a doctor or a nurse. In fact, some positions don't even require you to work within an actual hospital. Becoming a pharmacy technician comes with all the perks of helping people get their medicine without actually having to administer it. Another plus is that pharmacy technicians have a wide array of options in terms of where they can work, and most of them find positions within various retail outlets. The US Department of Labor estimates that this career will grow by 32 percent between 2010 and 2020, and the median salary is around $28,000 per year.
Medical Assistant – Medical assistants work on the opposite end of the spectrum. While it's possible to be an introvert or just plain not very people-friendly as a pharmacy technician, people skills are a must for medical assistants. They work with patients one-on-one, and they're responsible for recording their patients' vital signs and making sure their medical histories are as accurate as possible. The US Department of Labor projects growth of 31 percent between 2010 and 2020, and the median salary is roughly the same as it would be for a pharmacy technician.
Both of these options require certification or associate's degrees that are directly related to these jobs, so make sure that you get the relevant training if this is what you want to do once you're done with school.

Careers That Require a BA or Master's Degree

Registered Nurse (RN) – Becoming a registered nurse has undoubtedly crossed your mind if you've ever considered a medical career, and it's certainly one of the best options for those willing to put in the extra time necessary to make it happen. Not only is it an important job that has a direct impact on people's lives, nurses earn over $60,000 per year. This career isn't growing quite as fast as the ones that require less training and education, but there's still plenty of room as it's projected to grow by 26 percent between 2010 and 2020. The only real downside is that nurses often work long hours, and they don't always have a lot of control over their schedules. You'd better make sure you're in it for the long-haul before you finish a nursing program.
Healthcare Executive – If nursing doesn't appeal to you but you have a head for business, you could become a healthcare executive. They're responsible for planning how healthcare is delivered to people either on a hospital-wide basis or within a specific department. They make patients' lives easier from behind the scenes, and they earn a pretty penny for it. The average salary for a healthcare executive is a whopping $84,000 per year, and this career is expected to grow by 22 percent between 2010 and 2020. It also offers a wide array of options in terms of education; you can get this job with a master's degree in business administration, health sciences, public health, and in some cases even just a BA is sufficient. If you're not sure what you want to do just yet, you can explore this career option without having to specialize in something out of the gate.
More and more baby boomers will retire in the coming years, and they'll need more healthcare as they advance in age. It will require a large number of medical workers to make sure everyone's needs are met, and that's going to ensure that the medical industry will remain lucrative for a long time to come. If you're looking for a new career or have yet to start one, now is the best time to get the training you'll need to work in medicine.

Top Medical Careers Visualized – Click to Enlarge

Share this on your website – simply copy & paste the code below:

About Author:
Helena Durage is a full-time writer for higher ed blogs and journals nationwide with a focus on online education opportunities.  Several schools offer degrees in healthcare and related fields, including University of Illinois at Chicago and Boston University.