Top Sources of Financial Aid for Women Returning to School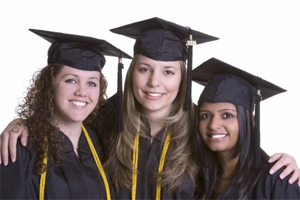 Women often find themselves in financial situations that they did not expect; for example, a woman who desired only to be a stay-at-home mother finds herself widowed at an early age or must make up for lost income when her spouse gets laid off or has difficulty finding work. At times like this, women, especially those with children, may find themselves on the brink of panic. This is a normal reaction, but women in this predicament may have more options than they think. Some should consider taking this time to train for a vocation that will give them and their families the financial security they need for the future.
When a woman first considers going to college, she may immediately dismiss this idea as being too costly. After all, the immediate problem may be that the family is struggling financially. However, it is possible to get a degree without investing much of the family's sparse resources. Knowledge about any financial help that is available is vital, and the following list of sources of aid may be helpful:
College or university financial aid offices and counselors
Local clubs or charity organizations
Libraries
Low-cost loans or free government grants
Employer sponsored educational opportunities
Some monetary sources available for women to attend college are long-standing, ongoing scholarships which may be based on need or merit. Some are geared toward a specific population of women, such as those who are out of a job due to a company that has downsized or moved overseas. Others may target women who have been out of the job market while rearing children and have lost some of the skills they may have had years ago.
A good way to go about the process of finding the best college cash opportunities is to check all of these sources regularly and keep a running list of those that might fit your profile and include the application deadline, the qualifications that you must have, and the amount of the scholarship or grant offer. Then, gather all of the necessary facts and paperwork into one organized area so that you do not have to spend time searching for these important documents. Do not forget to get several good references to use as you work. Start working your way through the list, being careful to follow all directions.
Finding funding for college really is a numbers game. The more applications that you send out and scholarships for which you apply, the greater the chance that you will receive the funding needed to complete your education. Always strive to put your best face forward on all forms and documents. The following list contains helpful reminders of experiences that may be useful to include on applications for scholarships:
Leadership positions, such as PTA president, girl scout leader, library volunteer or crossing guard
Previous training, including Toastmasters or budgeting classes
Talents and skills, such as the ability to play a musical instrument or involvement in some art form
Another great way to obtain money for college is by working to obtain a co-op position with a company for which you desire to work. Many companies allow students to work for a semester and then give them time off to attend school the next semester. Others allow co-op students to go to school at night or online while working part-time. Many large companies will work with women who need flexible schedules to work around families.
Finally, ask friends and family about the various ways that they have financed their education. Most women are amazed to find that there are ways for almost anybody to return to school if enough research into financial aid is carried out.
About the Author:
Guest author Jennifer Lewis writes for a website that has some helpful tips on scholarships for women returning to school. She believes it's worth women researching all the options to make sure they receive the financial help that they're entitled to.